Cultural Diversity at Upton
We live in an increasingly diverse world and should rightly embrace this concept in schools across the UK. Cultural diversity is all around us and understanding more about it can only help children prepare for the world ahead and learn to respect other cultures and religions.
From the first moment children enter our doors they are thrown into a huge and diverse social setting that is new to them. It is incredibly important therefore, with Upton taking pupils from 17 different schools, that children immediately begin to learn about and appreciate diversity.
In Year 3 the very first topic of the new school year is 'Knowing Me, Knowing You'. The topic enables children to look at diversity within their own class. The children find out how their backgrounds and personalities are different – and similar – to their peers and how this makes them special. This understanding helps build the first bonds between new classmates
Later in the year the Year 3 'It's a Small World' topic compares life in the UK to life in a different country. The four classes in Year 3 investigate life within four differing countries and societies. This year the children chose: Ghana, Australia, Spain and Germany. Pupils found about school life, food, climate, transport, festivals and celebrations. The children then presented an assembly to parents to share this information.
In addition to this, Year 3 study texts such as 'Rosa Parks - Little People, Big Dreams' and investigate the food and lifestyle of Egypt.
Within Year 4 cultural diversity can be seen through the choice of texts we focus on across the year in English lessons: 'Gregory Cool' is about a boy who moves from London to Tobago and experiences their culture. From this text pupils produce a travel brochure about Tobago and the festivals and culture that can be experienced there. 'Gangsta Granny' was chosen because it introduces children to issues they hear less about, including age discrimination and stereotypes. Afternoon lessons in Year 4 include children looking at how people in Japan prepare for earthquakes in a similar way to our fire drills, learning about pilgrimages on their trip to Canterbury Cathedral, finding our about Greece and taking part in a town trail around Broadstairs looking at local landmarks and the background related to them.
Year 5 continue in the same vein. They learn about China in their topic lessons. The Year 5 English Text -'Firework-Makers daughter' – is set in China, enabling pupils to learn about Chinese culture and also challenging the stereotype through the text that girls cannot be firework makers.
Children at the top of the school in Year 6 are about to take another leap into an even bigger multi-cultural and diverse society as they move to secondary school. Year 6 pupils study 'Circle of Life', a topic about evolution and DNA that explores how we are unique.
The topic 'The World Around Us' sees Year 6 pupils travel to their local secondary school to create their own 'International Food Day' using secondary school facilities and then bringing their creations back to school for their parents to sample.
In English, texts such as 'The Boy in the Striped Pyjamas' and 'Kensuke's Kingdom' are both invaluable in helping Year 6 children to understand how society has changed in terms of how we value cultural diversity in today's society compared to the past. Year 6 also study the book 'Wonder'. which is linked to their transition topic 'Moving on Up'. It is about a boy born with facial differences that, up until now, have prevented him from going to a mainstream school. This book helps teach children about diversity, acceptance and community.In addition, Year 6 children also have the opportunity to exchange cultures with our closest neighbours in France as part of the Pen-Pal exchange with the French town of Wattigny.
Across the school every pupil learns Mandarin as part of MFL provision. Aside from the language children also look at aspects of the culture behind the most spoken language in the world.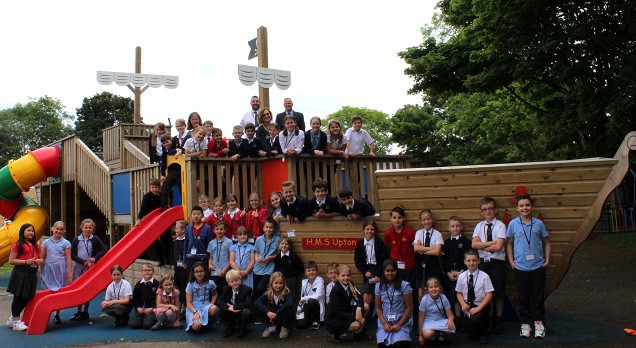 This year Upton have extended our cultural links to become part of an immersion project with the Broadstairs English Centre.Last year 30 children from China came to Broadstairs and joined our school for a month as part oif a project to share culture and language
Upton RE and PSHE lessons are all about diversity – both cultural and religious - while our whole school assemblies cover themes such as stereotypes and diversity, tolerance and respect for other cultures and beliefs.
Our whole school Diversity Week in the summer has the theme 'Good to be Me' and children learn about how they are both the same and different to others in the world and that both of these are equally good things.
For Book Week, the whole school engaged with the book 'The Rainbow Fish', a text that explores how we can all be different but still be friends. We have a reading-rich environment across the school and our reading boxes contain culturally diverse texts.
Language of Term has also been a regular feature at Upton for many years. These assemblies aid in showing children the culturally diverse society across the world.
Whatever political landscape our children grow up in, Cultural Diversity will always play a part in their lives. We aim, in the time they are with us, to open their eyes to the world around them and welcome it with open arms.