Friday 7th October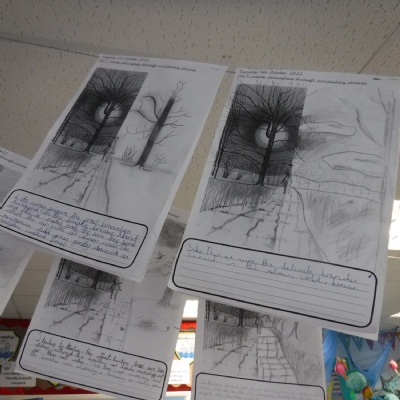 Year 6 Update and homework – Friday 7th October 2022
Remember that swimming for 6B and 6G is on a Monday afternoon. Children need to come in dressed in their PE kits on a Tuesday.
This week, the children became poets for National Poetry day on Thursday. They had a great morning full of exploring and annotating the poem 'Marks on my Back.' Using their inferences of the poem, they used drama and debates to unpick its meaning and used the poetic devices to create their own similar poem.
Home Learning Task
Using their ideas and knowledge from Thursday, the children need to write their own poem on the environment. Children can be reminded of the figurative language they identified from Thursday's poems and use these ideas to create their own. If they would like to combine their poem with artwork or sketches, we would love to see how creative they can be.
Reading: ​
Minimum 3x a week. Reading record must be signed by an adult. Can be completed on your own or with your parents.
Spelling Shed:
Friday to Friday.
Tasks will be completed online, with new tasks set every week.
Tasks will always follow the spellings being taught in class that week.
Time Tables Rock Stars: ​
Minimum 3x a week.
Can be completed on tablets, laptops or mobile phones though the app or the website.
My Maths:
Once a week – Friday to Friday.
Tasks will be completed online, with new tasks set every week.
Weekly Review:
What a great week we have had!
In Maths, we have deepened our understanding of squared and cubed numbers. The children then moved onto multiplying 4-digit by 2-digit numbers and have used the method of long multiplication to a range of contexts.
In English, we have been writing about our current text 'The Highwayman' written by Alfred Noyes. Before creating setting descriptions to show atmosphere through vocabulary choices, the children used charcoal to create the setting. They then thought about figurative language to show mood and tone within their writing.
In Topic, the children have developed their knowledge of electricity by applying everything they have learnt in Science to an experiment where they had to create a circuit with an alarm. They thoroughly enjoyed the experiment it was great to hear them share their ideas on the most successful circuits. They ended the week with an 'escape room' activity where they had to follow clues about electrical circuits to unpick a code.
Please enter some content for your blog post here.