All the Fun of the Fair for Upton Junior Pupils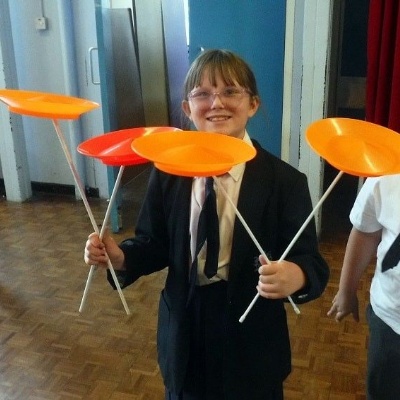 It was roll up, roll up as young engineers at Upton Juniors created mini fairground rides. The Year 6 children used Lego Robotics for their design projects and learnt about utilising a variety of gears and motors. They attached a battery, a motor and a sensor to their prototype – and then programmed the rides to move.
Another part of their fairground learning extravaganza saw pupils shown a range of circus skills by special visitors to the school who taught them how to master new techniques.
These included juggling, diablo and spinning plates, with some managing to keep four spinning at the same time – these activities also linked in with a text the pupils are reading called Leon and the Place Between which is set in a circus.
Another part of the Fun of the Fair topic WOW Day included drama activities and creating some fairground art to demonstrate light and movement. Pupils showed their skills at using a range of neon paints to express fluidity and movement in art.
Children were enthusiastic about their experiences. Valley said: "This was an amazing day I will always remember. I thoroughly enjoyed learning about the circus and practising my skills. I especially liked juggling and spinning plates."
Finn said: "The work with the computers and the Lego was amazing. We programmed the Lego and linked it to our knowledge of motors and electrical circuits – seeing it in action was fantastic"
Emilia agreed and added: "It was a fantastic day and so much fun. It really made our class book, Leon and the Place Between, come to life."
Head of School Darci Arthur said: "The excitement in Year 6 was electric. They made so many links to both their Science learning and their English text – cross curricular learning at its best."
Athanasia Papa-Adams, Head of Year 5 and 6, said: "The children enjoyed a brilliant hands-on learning experience where they tied together a range of Science topics. It was great to see them so excited and embracing each activity throughout the day.
"Lots of this topic work is also linked to Dreamland in Margate, which is a fantastic example of how a traditional seaside funfair works – and it is right on our doorstep."