Upton pupils explore Vikings, Saxons, shields and longboats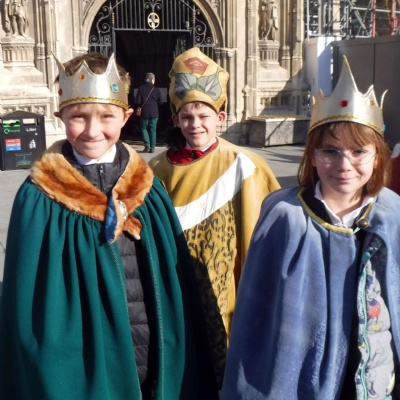 Invaders and Settlers topic for Upton pupils

Youngsters at Upton Junior School in Broadstairs became Viking warriors to find out more about the Norsemen and women.
To understand how they lived the Year 5 group made their own Viking longboats and shields as part of their topic about Invaders and Settlers.

Head of Year Athanasia Papa-Adams said: "Our children put so much effort into their home learning and created amazing shields and longboats using a range of materials including wood and papier mâché. Each one had be made using information gained from their research and learning – the detail of their work was impressive with Viking runes included on most of the designs."

The group also used their shields when they acted out the Battle of Hastings between King Harold and William the Conqueror in 1066, the year that saw the final Viking invasion of Britain when Harald Hardrada sailed up the River Humber and marched to Stamford Bridge with his men who were defeated in a long and bloody battle.

To gain a wider perspective on their topic, the children also visited Canterbury Cathedral where they became historians for the day as they discovered how St Augustine came to Anglo-Saxon Canterbury in 597 and how King Ethelbert of Kent gave him land outside the city where he and his monks established a monastery on the site where the cathedral now stands.
As well as looking at a range of artefacts, the children also learned how Christianity developed following St Augustine's influence.

Miss Papa-Adams added: "It was brilliant to see the children's learning coming together. They used key knowledge gained in the build up to this trip to answer questions and impress that staff at the cathedral with their well thought-out responses.
"It reinforced their knowledge and it was a great opportunity for us to use a fantastic history resource in our area."
Please enter some content for your news story here.