Eye-opening science topic for Upton pupils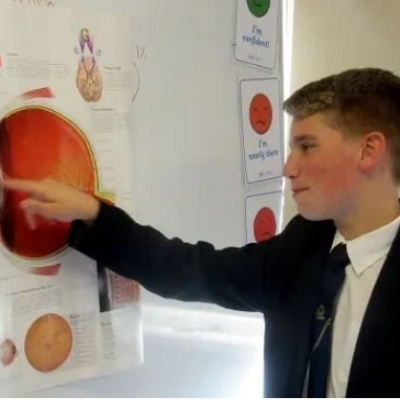 Discovering the wonder of sight has been an eye-opener for pupils at Upton Juniors in Broadstairs.
As part of their Year 6 science topic children have been investigating all aspects of the eye and how it reacts to light.
To help bring their studies into focus, teacher Maisie Prescott took optical equipment into school to create a mini opticians' centre complete with a variety of lenses and eye test material.

They learnt about the varied parts of the eyeball and labelled a diagram showing nerves, muscles and tissues of the organ.
They also investigated why people can be long or short sighted. They looked through different lenses to see how it affected their vision and tested their eyes using the familiar alphabet chart.
As part of the topic the children have also been investigating how light travels in straight lines and they made periscopes to find out how that piece of optical equipment functions.
Athanasia Papa-Adams, Head of Year 5 and 6, said: "Our pupils thoroughly enjoyed entering the optician's room and looking at all the equipment.
"They had prompt sheets to support their learning and it was great to see their knowledge linked to everyday life as they delved deeply into the science around light and the eye."