Miss Papa-Adams recommends... Letters from the Lighthouse by Emma Carroll.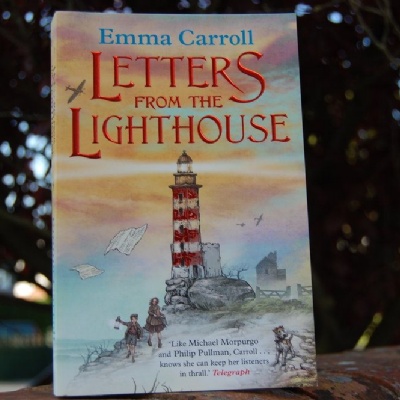 Hope is being able to see that there is light despite all of the darkness.
When Olive and her little brother Cliff are taken to the cinema as a treat by their older sister Sukie they find themselves in the midst of an air-raid, and Sukie has vanished. Olive escapes major injury but the siblings are promptly evacuated to Devon. Olive and Cliff find themselves staying with the enigmatic lighthouse keeper Ephraim. Cliff makes instant friends with lighthouse keeper's dog and Olive soon helps out by delivering parcels to the villagers.
She is convinced something secretive is going on with the locals and that her sister must somehow be involved. When Olive discovers a coded message in the lining of her mother's coat, last worn by Sukie, she is thrilled but can make neither head nor tail of the code.
Hope is theme throughout the book, one always hopes for the best, and that is the feeling that the author captured writing about Olive's search for Sukie - she is so convinced her sister is okay somewhere in the world and she needed to figure out where.

As Olive's story unfolds, Carroll also provides the reader with a window though which to see and understand just what it means to be a child and live in a country at war, realistically depicting the fears and the privations, as well as the importance of family. Other themes relate to the value of friends and neighbours and the need to learn trust and tolerance. Heading each chapter with expressions, warnings, and advice that were common during the war also helps give the novel a sense of authenticity.
Be sure to let me know what you think once you've read it.
Other books similar to this: Goodnight Mr Tom, Rose Blanche and The Boy in the Striped Pyjamas