A super first full week in 3R!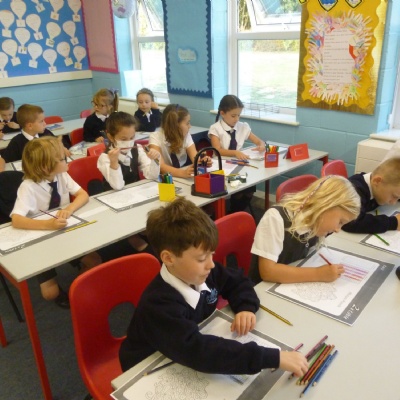 3R's first full week at Upton!
This week, 3R have started their Maths and English lessons!
During our Maths lessons we have been looking at place value. The children have been comparing numbers using 'greater than', 'less than' and 'equal to', as well as ordering numbers using the vocabulary 'ascending' and 'descending'. The children have really impressed Miss Watkins and Mrs Budge with how hard they have worked this week!
During our English lessons we have been reading 'The Very Dangerous Dinosaur'. We have designed and described our own dinosaurs and retold the story. 3R designed some fantastic (and very scary) dinosaurs!
In the afternoon this week we have been focusing on friendship. We have been discussing the questions: 'what is a friend?', 'how do we make friends?' and 'what traits does a good friend have?'
Our core value this term is friendship. 3R have all shown this value brilliantly this week. A special well done to Hazel, who was our pupil of the week in 3R for being so kind and supportive to all of her peers!
Finally, congratulations to Harry and Ellie who were elected by the class to be our form captains!
3R have been superstars all week and I am looking forward to seeing all of the amazing things that they get up to next week!