Year 4 Weekly News Friday 28th January 2022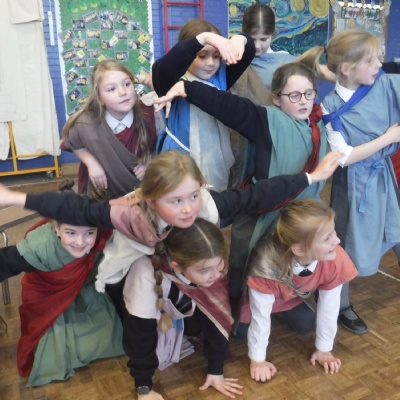 It has been another busy and productive week in Year 4.
English
This week in English, we have been writing a non-chronological report on our own Greek God or Goddess. The children have learning how to organise and structure their writing using subheadings. Next week, Year 4 will be writing a Quest Story featuring the God or Goddess they created this week, with a focus on punctuating dialogue correctly.
Maths
This week in Maths, we have been exploring division through partitioning and use of a range of manipulative. The children have learned some new mathematical vocabulary, such as Dividend, Divisor and Quotient. Next week, Year 4 will be learning about correspondence problems and area.
UBBC
This week in UBBC, we have been exploring and comparing Athens and Sparta. The children researched how these cities were different and held a class debate to construct a persuasive argument as to which city would have been the best place to live. Today the children finished off the week with a fantastic Fab Finish, learning how to sculpt using authentic tools and visited a brilliant workshop to learn more about life in Ancient Greece. The children had a brilliant time dressing up, reenacting an Athenian Agora and recognising the importance of the panathenaic festival! Next week, Year 4 will be learning all about the different job roles in Ancient Greece and investigate the effects of different liquids on teeth (linking to Ancient Greek Scholars, Hippocrates and Aristotle)
Please see link below of Year 4 In The News - Our Greek Wow Day!
https://theisleofthanetnews.com/2022/01/27/upton-pupils-explore-ancient-greece/
Home Learning
This week the children decided whether they were Pro-Sparta or Pro-Athenian - this week we ask if the children could write a letter (a respectful letter!) to another child on the opposing side! Can a Pro-Sparta convince a Pro-Athenian to move cities based on the arguments constructed for our debate? Good Luck!
Key Messages and Information for Parents
Next week, the children will be swimming on Tuesday (as opposed to Wednesday) can the children please remember to bring swimming kits Tuesday instead.