Super Science in 5B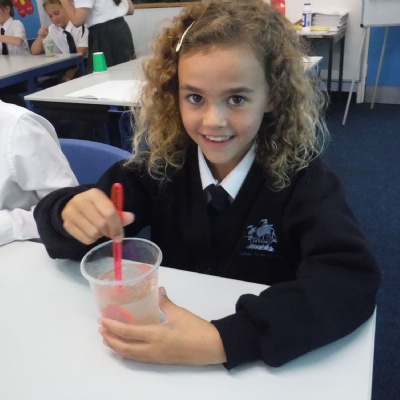 This week, we started our new UBBC topic - 'Changes'.
We kicked off our UBBC lessons this week with some super science. On Wednesday, we investigated soluble and insoluble substances by seeing if they would dissolve in water. We found that salt and sugar dissolve in water but sand and flour do not.
Then, on Thursday, we built on our knowledge by investigating whether the temperature of the water affects the rate at which a solute dissolves. We used a Skittle to act as the sugar. We placed one Skittle in hot water, one Skittle in cold water and one with 50/50. We found that the hotter the water, the faster the sugar dissolves.
To end the week, we made Alien Soup. We mixed lots of items together in water and used various methods to separate them out including, filtering, sieving and evaporation. Hopefully on Monday, the water will have evaporated to leave behind the salt. I can't wait to find out.