Musical First Is A Success for Upton's Young Musicians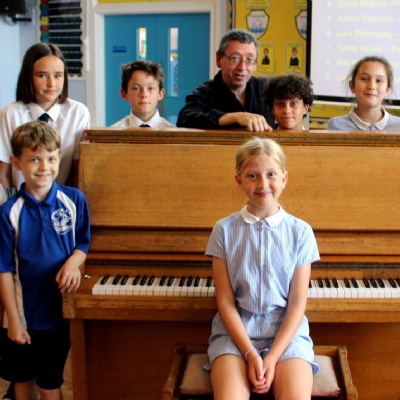 A piano recital ushered in a new era of music performance at Upton Junior School in Broadstairs
Nine young musicians from across the age groups played their chosen pieces to an audience of family and friends at Upton's first ever piano recital.
Music teacher Peter Langridge explained: "A majority of our children who learn instruments at home and who study for their grades often lack the challenging and thrilling experience of playing to an audience.
"This is so important in their development as the positive feedback from playing live for others adds a fresh dimension - it is a valuable lesson as you learn how to play for an audience. It is also great for enhancing self-confidence and communication skills.
"This type of performance is a new departure for Upton and it is something I hope we can build upon."
Nine pianists from Years 7 to 11 were greeted with deserved applause from families and friends who watched the mini concert while enjoying a summer's afternoon tea and cakes.
The entertainment programme was varied and it tested the skills of all ages and abilities.
The performers were Elodie – Melody in C; Albion – We Three Kings; Jacob – The Winner Takes It All by Abba; Daisy – Flower Duet; Arthur – A Hard Day's Night by The Beatles; Lara – Imagine by John Lennon; Teddy – Fun Fair Blues by Naomi Yandell; Will – Minuet in C; and Lulu – Serenade by Schubert.
Head of School Darci Arthur praised the young performers and told the audience: "This was our very first piano recital and it was a terrific success. I am sure there will be many more similar events to come.
"Our children oozed talent and it was pleasing to see them playing for an appreciative audience. It is a great boost for their confidence.
"Playing the piano is something I have thought about taking up and this performance has really inspired me to consider a new musical challenge."
Upton Junior School is part of the Viking Academy Trust with Ramsgate Arts Primary and Chilton Primary School, Ramsgate.
For more information contact Head of School Darci Arthur on 01843 861393