Week 5 Update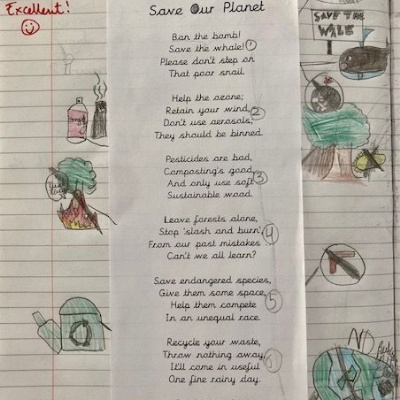 The children immersed themselves in poetry on Thursday morning for National Poetry Day.
Another super week in Year 3 is nearly over! Almost two weeks to go until we say goodbye to Term 1!
This week in Maths, we have started our unit on addition and subtraction and have been looking at how adding and taking away 1, 10 and 100 links to place value.
This has been our final week looking at our text 'Voices in the Park' in English. The children have really enjoyed the deep-dive we've done into this book! Thursday was a special day at Upton, as we celebrated National Poetry Day. This year's theme was based around the environment, and we loved spending all morning unpicking a range of different poems, looking at language and poetic devices. We enjoyed illustrating an environmental poem, and then went on to write our own poems based on different endangered species.
In UBBC, following on from the theme of our favourite hobbies, the children have had great fun conducting science investigations. We went outside to investigate the question 'Do the longest legs jump the furthest?'...and the answer? A resounding 'No!'
Next week:
In Maths, we continue with addition and subtraction, looking at how to add and subtract 1s and 10s across a 10 and 100.
In English, we start a new text, based on the life of Rosa Parks. We are very excited to learn all about this remarkable woman, who had the bravery and conviction to stand-up against the terribly unjust regime of racism and segregation.
UBBC next week will have a DT focus: the children will be using levers to create a moving picture, based on their favourite hobby!
KEY DATES:
Monday 10th October - Hello Yellow Day - Children are invited to dress in bright yellow for a suggested donation of £1. All the proceeds go to Young Minds - a charity that supports young people's mental health and wellbeing.
Wednesday 12th October - 'Come Dine With Me' for Blue and Green class families.
Thursday 13th October - 'Come Dine With Me' for Red and Yellow class families.
Friday 14th October - Upton's 'Book Look' - Parents and carers are invited to look at your child's books after school at 3.15.