BBC 500 Words Writing Competition - Summer 2023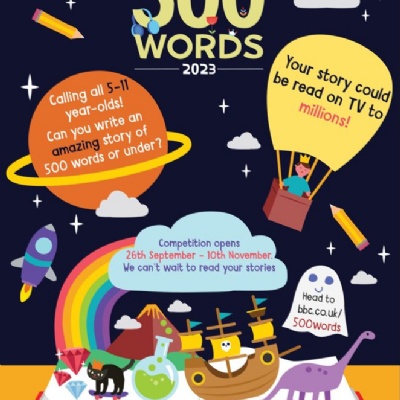 500 Words, the biggest children's writing competition in the UK, is back!
https://youtu.be/zGSli8C6yhQ - Watch a video about this year's competition.
500 Words, the UK's most successful children's writing competition, opens on Tuesday 26 September and will run till Friday 10 November.
Since the competition was first launched in 2011 by Chris Evans on the Radio 2 Breakfast Show, it has received over one million stories from children throughout the UK.
This year, the two age categories will be 5-7 year-olds and 8-11 year-olds.
Children of all abilities are encouraged to use their creativity and imagination to write a story they would love to read without the pressure of having to worry about spelling, punctuation and grammar.
Our brilliant 500 Word judges are back: award-winning and best-selling authors Frank Cottrell-Boyce, Francesca Simon, Charlie Higson, and former Children's Laureate, Malorie Blackman. We are delighted to say that this year there will be a new addition to the panel, TV legend and children's author, Sir Lenny Henry. The judges will be casting their expert eyes over the final 50 stories. You can find out why they are perfect judges here.
We are also very lucky that once again the competition has been given the royal seal of approval and has the support of Her Majesty, Queen Camilla.
This year, BBC Breakfast will be hosting the competition supported by us on BBC Teach. The winners will be featured in a special 500 Word programme on: World Book Day, Thursday 7 March 2024.​​​​​​​