Weekly Update 17/11/23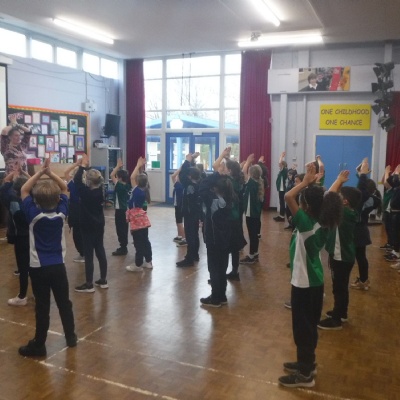 Another fabulous week in Year 3!
Reminders (Term 2 week 3):
- Red and Yellow class have swimming on a Monday. Please note that all children MUST have a swimming hat and earrings must be removed before swimming.
- Tuesday is PE day, so please send your child into school wearing their PE kit.
- Please ensure that your child is wearing the correct school uniform.
Kindness cup:
Every week a child from each class will be awarded the kindness cup - a special trophy that sits on their desk for the whole week. A child is either chosen by their teacher or nominated by their peers for displaying kindness that week.
The winners for this week are:
3B - Lottie
3G – Olivia
3R - Jaxson
3Y – Rosie
English
This week we continued reading our text Iron Man. We built on our descriptive skills to write a setting description of the beach scene from Chapter 1 using fronted adverbials for place. We then read up to Chapter 3 and unpicked the features of a newspaper article. Next week, we will be writing our own newspaper report based on the Iron Man reappearing at the start of Chapter 3.
Maths
We have worked on formal column addition with regrouping. Next week we will work towards formal written methods for subtraction.
Thematic
We explored magnetism across this week, testing magnetic materials and exploring the poles of magnets.
Next week we will continue our science focus and explore light.
In PE we took part in a Bollywood Dance workshop run by Miss Reed, we had so much fun!
Homework
- Please read with your child at least 3 times a week.
- Children have now been given their log-in details for Times Table Rock Stars. They should be playing this at least 3 times a week to build their confidence and fluency with times table knowledge.
- Children have been given a ZPD to help them identify the correct books for their reading level. Once your child has read their book, they will need to complete a quiz on it before getting a new one. These quizzes can be done either in school or at home on Accelerated Reader using the log-in codes found in their reading records.
- Spelling shed homework has also been set for the children to complete by next Friday.
- The new homework menu is attached. Remember, if you would like to record your learning in a book, just ask your class teacher and they will be happy to find one for you.
Thank you everyone for all of your hard work this term. What an amazing start to life at Upton we have had! We hope that you all have a wonderful half-term, and we are already looking forward to seeing you all again ready for Term 2.
The Year 3 team