Weekly News and Homework 27.01.23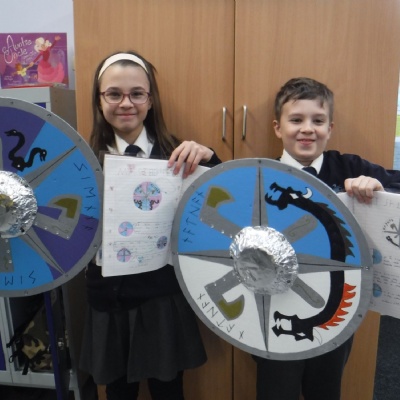 Year 5 have handed in some amazing Viking shields!
Key Dates:
Teachers are on Strike on Wednesday 1st February, but 5Y are open-please refer to Miss Arthur's letter.
It is Number Day on Friday 3rd February. Maths activities will take place all morning.
Mr Jackson is running a parent session on E-Safety at 8.45am on Tuesday 7th February.
In Maths this week we have continued to explore multiplying fractions by integers and solve a range of problems involving this. Next week will be delving into decimals.
During our English lessons pupils used powerful verbs, descriptive vocabulary to write a quest based on Gunnar travelling to Valhalla to avenge his father. This is centred on our action-packed text "Viking Boy". Next week we will be writing a newspaper report.
This week we have explored the Vikings. We have looked at the raid on Lindisfarne and written a newspaper report about the events. We have looked at how the Vikings invaded and daily life in the villages. For this week's homework, create your own Viking longship. You could use cardboard boxes, juice cartons. Be creative and imaginative! We can't wait to see them.
Extra: It's Big Garden Birdwatch Weekend Are you ready to look out for birds on your patch? Big Garden Birdwatch long weekend is here! There's still time to sign-up and take part. Just spend one hour between Friday 27 and Sunday 29 January counting the birds, and help monitor how birds are faring. It's free, fun and a great way to keep an eye on your local wildlife. Wherever you are, whatever you see, it counts!
https://www.rspb.org.uk/get-involved/activities/birdwatch/?sourcecode=BWMITH0230&utm_source=google&utm_medium=ppcad&utm_content=guide_request_various&utm_campaign=birdwatch2443&gclid=CjwKCAiA5sieBhBnEiwAR9oh2mjII2BhPK1E4mmVBrSq4qZ9-t3QdqaxUQsgeiEIXkQGdJmGm_9n2xoC_VYQAvD_BwE&gclsrc=aw.ds