Year 5 Weekly News - Friday 15.09.23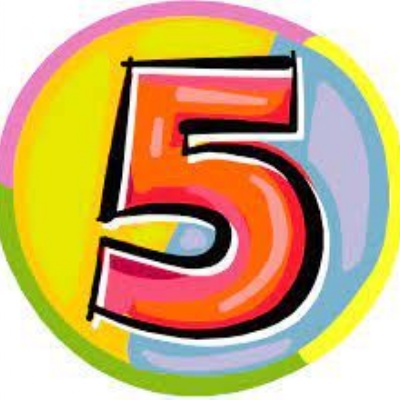 Key Messages:
Monday is PE for all of Year 5. Please send the children in wearing their PE kit.

Thursday is swimming for 5B and 5G. Please ensure that full swimming kit is brought in on that day. If your child cannot take part, please contact their teacher or the office to explain why.

Reminder to ensure children are reading at home and bringing in their reading records daily.

Please ensure children are wearing correct school uniform and shoes, including a tie.

Please ensure children are bringing in their water bottles, preferably with a sports cap.
Weekly homework tasks:
Reading daily – please bring in your reading record signed by an adult.
TTRS at least 3 times a week for 10 minutes.
MyMaths and Spelling Shed - Friday to Friday
Logins have now been set up. Usernames and passwords have gone home on a sticker in the children's reading record and home learning book (if they were in school). All online platforms (except MyMaths) use the same username and password.
---
Termly Home Learning Task
This year, we will be setting just one homework task to be completed across the term that links with our Thematic Curriculum. There will be a selection of homework tasks to choose from but you are also free to do something else related to the topic. It would be great to see models brought in or photographs in books for anything that has been physically made. Other work can be completed in the book or printed and stuck in. We look forward to seeing what you come up with and details of this term's task are below:
Term 1: Across the Pond
This term in Year 5 we are exploring the continent of North America, specially the countries within. We would like the children to delve into the topic during their home learning by exploring one of these tasks. They may present their work in any way that they wish; it could be a presentation, poster, or something that they make, the possibilities are endless. This piece of work will need to be brought back into school during the last week of term. If something is physically created, please can this be brought in or a photo stuck into books so we can celebrate the children's success!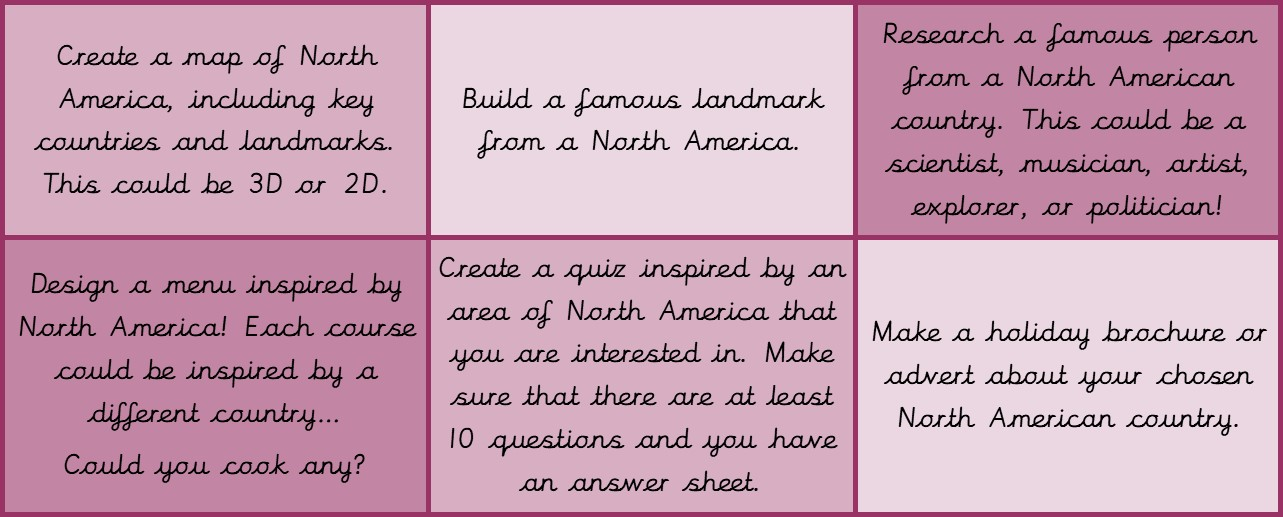 ---
English:
In English this week we started to read our new text 'There's a Boy in the Girls' Bathroom'. This is a book set in North America and explores the relationship between the 'naughty kid' and the new boy to the school. We have written diary entries from the points of view of: Jeff – the new kid; and Bradley – the 'naughty kid'.
Next week we will be diving deeper into the text and using expanded noun phrases to write some descriptions.
---
Maths:
This week in maths we continued our work around place value and 6-digit numbers. We used number lines to order and compare numbers and looked at some rounding techniques.
Next week, we will finish our place value strand by rounding 6-digit numbers and using Roman numerals. We will also begin our new unit on addition and subtraction.
---
Thematic Curriculum:
This week we began our new topic: Across the Pond. This topic is all about North America and the 23 independent countries that it consists of. We looked at a timeline of American history and looked at the origin of place names due to the colonisation by European tribes. Our Art to Start lesson centred around artists from different North American countries and the children had a go at recreating some of their famous pieces of art.
Next week we continue looking at the geography of America and how it compares to the UK.
---
Weekly Winners!
Here are our winners this week:
Pupil of the Week: 5B – the whole class 5G – Kayleigh 5R – Fin 5Y – Oliver
Reading Champion: 5B – Tom 5G – Freddie 5R – Lexi 5Y – Charlie
Kindness Cup: 5B – Kitty 5G – Holly 5R – Max 5Y – Celeste
Well done to everyone!