A 'Fabulous Finish' and a 'Stunning Start'.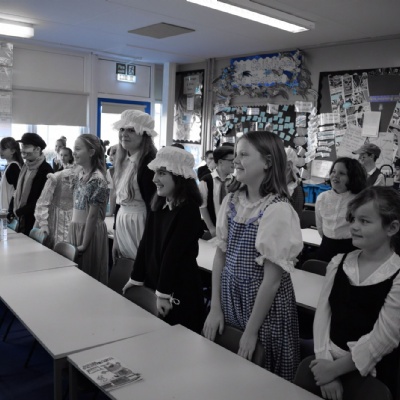 Year 5 have had a fantastic end to the week. We have explored the 'ugly' side to drugs as our 'The Good, The Bad and The Ugly' drugs topic came to a 'Fabulous Finish', and lived a life in the day of a Victorian child as we started our new topic - A Victorian Childhood'.
Yesterday afternoon was filled with excitement as we were visited by an officer who works for Border Force, Mr Kent. Mr Kent explained the negative impact drugs can have on our bodies and our lives, how drugs travel to our country and explored the role of Border Force in helping to protect us and control the movement of drugs.
We were also incredibly lucky to meet 'Bella' and 'Woody', two wonderful detention dogs who help Mr Kent and his team on a day to day basis. The children witnessed the dogs in action as they found a 'concealment prop' planted in our line-up of suspicious looking teachers. Interestingly, the drugs were found on Mr Walker!
The children were absolutely fascinated and full of questions the whole afternoon, it is definitely and experience that they won't forget. We are very grateful that Mr Kent could take time out of his busy schedule to come and visit Upton.
Today, 5Y didn't appear at school, instead I was greeted by a group of Victorian school children and the day entailed a range of different activities.
The children moved seamlessly between the tasks of making beautiful decoupage photo frames, showing off their sewing skills as they made Victorian samplers, facing the wrath of a traditional Victorian teacher, Mr Kettle, and putting their drama skills to good use as they took on the various roles of tractional Victorian children.
It has been a fun-filled day, enjoyed by all and has definitely been a 'Stunning Start' to our topic. The children's outfits were lovely and they truly took on the characteristics of 'Victorians'.