Year 5 English - Writing a flashback...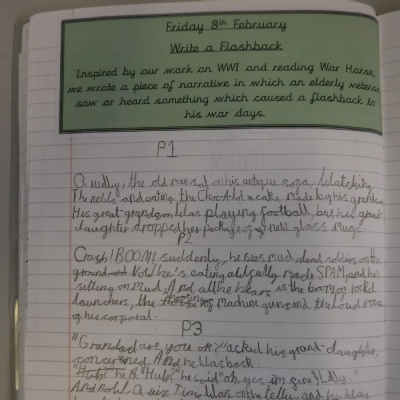 Year 5 have been busy in English this week tackling the tricky genre of writing a narrative containing a flashback. Following our work on both WWI week, and the Michael Morpurgo text, 'War Horse', the children wrote about an elderly war veteran, who experienced a flashback after they heard a certain noise, or saw or smelt something which triggered a memory. We tried hard to include emotive language to move our readers.
Read one of their narratives below, written by Zac Hamer (5Y), Mrs Budge's English group:
'Whilst at home, the old man was sitting on the faded sofa, watching Youtube. He sighed as he couldn't seem to find anything to watch. Suddenly he heard his daughter scream. It was a rat! Suddenly he remembered the trench life he had.
His heart was thumping like a bass drum. His eyes stared wide while the seen around him changed. He stopped what he was doing at that moment, open-mouthed.
In the distance, he heard the thunder of bombs going off. There were rats everywhere. "Twenty minutes, lads," shouted the Corporal. The old man's heart was thumping like thunder. "Two minutes left," shouted the Corporal. 5, 4, 3, 2, 1 - over the top they went. The guns started firing, the young men went in groups of three. Horrifically, one out of three were killed or wounded. Breathing heavily, he stared at the death and doom around him. But how did he ever survive all the battles?
After a while, all the bombs and guns stopped. He could hear the faint voice of his daughter calling him. Looking down, wiping away a tear, he went back to watching Youtube...'
The attachments below are the work of Louis Ralph (5R) and Lacey Brown (5Y), Mrs Budge's English group.