Perfect PAG Games!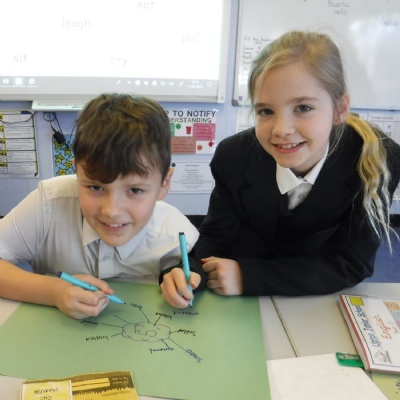 Year 5 play fun PAG games to secure their knowledge of uplevelling.
On Monday, Year 5 played lots of different games to help with our understanding of exactly what it means to uplevel our work. We played 'Guess my Adverb', where one child had to enter the classroom miming a certain adverb (we particularly liked 'Theatrically' - thank you, Miles for the added drama!) and the others had to guess what it was. We enjoyed 'Powerful Verb Poker', where the children had to 'see and raise' their partner's powerful verb. Following this, the children became human thesauruses, and had to complete one minute round-robin challenges to think of as many synonyms to common verbs as they could (see the attached photos of children from Mrs Budge's English group). In 'Fabulous Fronted Adverbials', we listed as many words or phrases as we could, linked to time, location and feelings. In another game, using our 'Tasty Subordinating Conjunctions Menu', we uplevelled our own sentences by adding subordinating conjunctions from the tasty menu provided!
The children agreed that the games made PAG really enjoyable and that their knowledge of all things linked to uplevelling had improved.