A Sea of Colour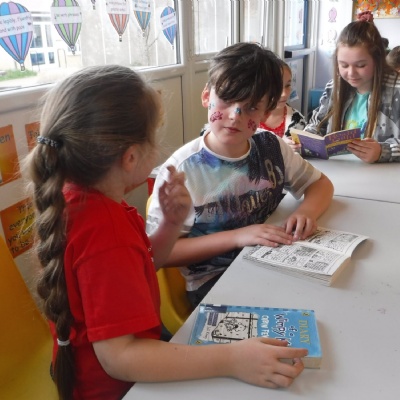 5Y have been discussing all things fishy, rainbow and unique this week!
This week we have studied the book 'The Rainbow Fish' in all areas of our learning.
We started the week unpicking the moral of the story and discussed a variety of possible interpretations of the story.
Yasin believes that the story demonstrates the idea that "to earn respect, you need to show respect" and Owen believes that the moral is "treat others how you would like to be treated".
In English this week, we have explained our interpretation of the moral of the story, created a story board for a modern day retelling of 'The Rainbow Fish', discussed questions we would like to ask The Rainbow Fish at various points in the story, compared the story to another book, The Smartest Giant in Town' and produced our own poems based on The Rainbow Fish.
The children have been truly immersed in this text, even encountering it in their maths and afternoon lessons!
Miss Bunce and Mrs Budge's maths learning groups completed a 'Rainbow Fish' quiz yesterday to develop their arithmetic skills and Mrs Ballen, Mrs Sedgewick and Mr Kettle's learning groups solved two-way tables based on The Rainbow Fish and tide times today.
In the afternoons, the children have discussed the PSHE aspects surrounding this text and held the debate of whether it is more important to have happiness of the group vs happiness of the individual. Additionally, the children have LOVED getting creative and producing their own aquariums.
My favourite part of the week has to be the 'book share'/class swap. Half of 5Y went down to visit 3G and half of 3G joined 5Y in upper school to read together and share some of their favourite books. All children thoroughly enjoyed this experience and it was lovely for friendships to develop across the year groups.