'Where's Wally?' Big Write!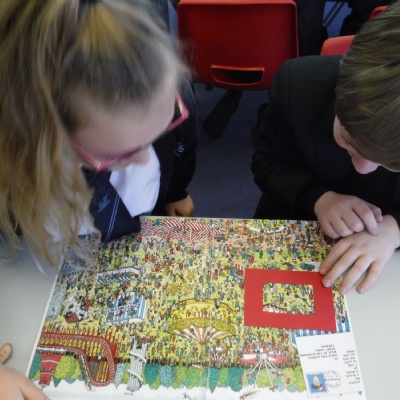 Year 5 Get Creative With 'Where's Wally?'
The Year 5 children enjoyed a wonderful 'Where's Wally?' inspired Big Write session this week, when we used the illustrations from Martin Hanford's mind-bogglingly intricate cartoon illustrations as a stimulus for a piece of writing. The children were given view-finders, which they used to choose a small section from a range of different 'Where's Wally?' scenes. The illustrations ranged from a pirate ship disaster, antics on a cruise liner, fairground fun, and a marvellous museum.
Big Write sessions allow the children the freedom to choose which genre in which to write, and gives them a chance to show off their writing skills. Some children chose to write a narrative poem, while others focused on writing newspaper articles, stories, diary entries, recounts and letters.