Colour Run 2019!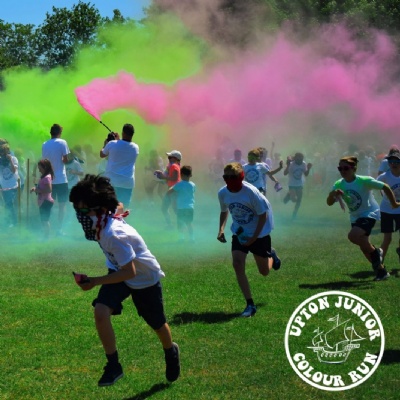 Colour Run details......
As you know, this Friday 19th July is our annual Colour Run event. My sincere thanks to all our sponsors who have made the event possible. All children in the school are invited to take part as are you, as parents, and any siblings. You don't need to run at all – just get involved. Below is a reminder of key information:
All entries, be they pupil or parent, are made via www.eduspot.co.uk School Money 'School Shop' tab. Entry costs £3 and includes a medal for all Upton pupils. Pupils can also purchase a pouch of powder. If you have any problems paying this way then simply contact our school office
Pupils must return the permission slip in order to take part. Can we have these in by Wednesday 17th July, please. Letters have been sent out via the MCAS app and are on the school website and in the school office.
On the day
Pupils come to school in their Colour Run clothes and should bring:
A pair of sunglasses or a pair of goggles to protect their eyes

A bandana or similar to go around your mouth for when you pass through a colour station.

A towel

A bottle of water

A cap to protect from the sun

Any required medical items
Optional:
Please accessorise as much as you like – it's meant to be a colourful event! Tutus, coloured wigs; head-bands; wrist-bands; colourful socks, etc are all very popular with colour runners.

Money for refreshments. Our super PTFA will be selling refreshments
Many of you will already be at school for the Annual Parents Picnic that starts at 12.15pm. The Colour Run will follow this at 1:30 pm and will end at 3.15pm. Do not take anyone home before this - it's incredibly difficult for teachers to keep track when they are in the middle of such a large event. At this point, children cannot go back into the school because they will be covered in colour and so need to go straight home. All children will need to be collected from their teachers on the field.