Uptonfest2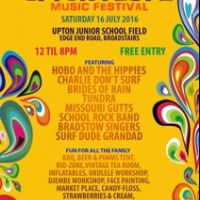 UptonFest2
A Great Event to Look Forward to.
Please click the link to find out more details.
News from Upton Junior School
Upton Fest 2 – Getting Ready to Rock
Upton Fest is ready to rock and roll this summer following the success of last year's first ever show.
The celebration of music, arts, crafts and family fun is on Saturday, July 16, from noon until 8pm at the playing fields at Upton junior school in edge End Road, Broadstairs.
The big event will once again be part of the school's SOS campaign (Save Our School's community pool) which this time will raise funds towards the contractors works and towards the ongoing upkeep of the amenity.
It is hoped to reopen the pool as soon as possible following a widespread public appeal that featured more than 70 events plus donations from families, friends, community groups, organisations and businesses for essential repair work to put it back into working order.
In all £93,000 has been raised and the festival team hope to raise a further £10,000 towards the project which is a similar sum to last summer's festival contribution to the project.
Upton Fest 2 feature a host of performers with a cross section styles to suit all tastes. These include the school's rock band, Hobo and the Hippies, Charlie Don't Surf, Brides of Rain, Tundra, Missouri Gutts, the Bradstow Singers, and Surf Dude Grandad.
Attractions include a barbecue and Pimms tent, kid-zone, vintage tea rooms, inflatables, ukulele and djembe workshops, face painting, market place, a veg and plant stall, strawberries and cream, and food from around the world.
Confirmed ale house donors are The Four Candles, St Peter's; The Yard of Ale, St Peter's;
The Chapel, Broadstairs; The Lifeboat, Margate; Kipps' Alehouse, Folkestone; while other donations will come from Cramptons, Broadstairs (bars and bar equipment); Marc-one event security; and S P Weight Electrical Services.
Teaching assistant Angie Mullins who is co-ordinating the festival said: "We are on our way and can't wait for Upton Fest 2. We are working hard to make it even better than last year's festival, which will take some doing but we have a great team and we are up for it."
Anyone who is interested in taking a pitch or a table at the festival should contact Angie for more details via email Ange.pat@hotmail.co.uk.
*Attached – pictures of Charlie Don't Surf, The Bradstow Singers and the festival poster
** For more information contact Deputy Head Teacher Dave Walker at Dave.Walker@upton.kent.sch.uk, or telephone 01843 861393.
*Pool facts
More than 1000 people used the pool in Edge End Road every week and generations of children have learned to swim there since it opened 20 years ago.
It was closed at the end of 2014 and although the pool is run by Upton school, it is truly a community asset. Eleven local schools swam there each week, including The Foreland School for pupils with profound, severe and complex needs (PCSN) and Stone Bay School for pupils with autistic spectrum disorder and communication needs.
It provided a safe, non-public environment that catered for the specific needs of individual groups, many of whom are unable to use other public pools in Thanet. The pool was also used weekly by local swim schools, lifeguards associations and OAP groups.