Trust Unites for The Queen and King Charles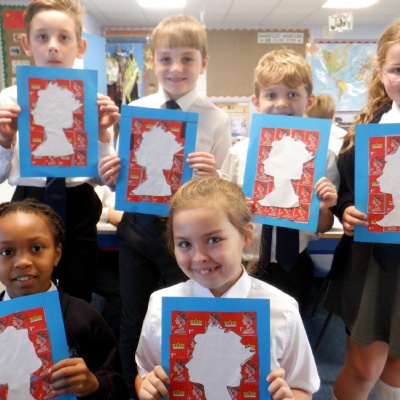 Heralding King Charles III and respectfully remembering The Queen's long and distinguished reign has united hundreds of children at Thanet's Viking Academy Trust.
Children of all ages at Upton Juniors in Broadstairs, Chilton Primary and Ramsgate Arts Primary, have shared the experience.
As well as holding commemorative assemblies, the partner schools have discussed the roles of the last and the new monarch as well as reviewing the subject of royalty and how it has developed through the centuries – and how the Queen invited Paddington Bear round for tea on her Platinum Jubilee.
Books of condolence have been signed at each site by children, staff, governors and families.
The creative talents of the youngsters have contributed to a range of research about The Queen's 70-year reign and key events of the time period, writings, artwork, discussions, and a floral art mural exploring different media from collage, print making, drawing and ink.
They also looked at the design of Royal Mail stamps and how this has been a staple of British society for generations which is now about to change. Pupils were creative in their own stamp art, mimicking famous artists, using rollers or coming up with their own designs.
Teachers and children have also spoken about loss and how it can make them feel and how to support themselves and others during times of sadness.
Michaela Lewis is Executive Head Teacher of the Trust. She said: "After paying our immediate respects, we have embarked on a number of varied learning initiatives to mark this historic and rare event.
"I am proud of the levels of respect and interest that pupils across our three schools have shown – together we are part of living history. It is something that we all will always remember."
For more information contact Michael Lewis on 01843 582847.