Creative Celebrations for National Poetry Day at Upton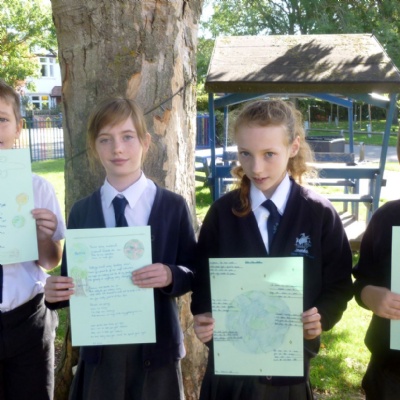 National Poetry Day saw hundreds of children at Upton Juniors creating works around the theme 'the environment'.
A key focus for the girls and boys was performance poetry and oracy – the ability to express oneself fluently and grammatically in speech.
Children read environmental poems, performed them and wrote their own. In Year 3, they focused on endangered animals and used art as a stimulus to write their own poems; Year 4 pupils wrote repeating line poems in response to the work Names by acclaimed poet Brian Moses– they also performed it using 'readers theatre'.
Meanwhile Year 5 read the poem One Broken Planet, and wrote their own version using its style and structure. In year 6, children read the poem Scars on my Back, using it to inspire creative artwork to demonstrate the meaning behind the poem. They also talked about the fact that there is no 'Planet B' if the environment is not sustained and protected, and from this they performed poetry and created their own works.
Joe from Year 6 spoke for many of his peers and added: "I love poetry as it gives me a chance to express myself. It also allows us to discuss important messages and share our own with others."
Year 5 teacher Emily Watkins said: "My class undertook some poetry tasting. We set the classroom up like a restaurant and they loved it. This inspired them to write their own. They were so engaged and excited to read a range of different poems about the environment."
Assistant Head of School Gemma Scarr is also Head of English. She said: "It was such a fantastic day to celebrate poetry in so many ways. Many children find poetry quite hard and have a preconceived notion about it being difficult.
"It clearly showed the children that poetry is a form of artistic expression - it's all about creativity and having a voice. Walking around the school it was obvious that our pupils had really taken this message on board.
"The work they created was exceptional and they performed a range of poems with confidence. As a school we are developing our oracy skills, and this was such a fantastic opportunity to do this."
In September, Upton's Year 5 invited parents in to school to share in their latest creations in verse, inspired by the work of dub poet Benjamin Zephaniah and acclaimed author Brian Moses.
After reading and researching the style, content, subject matter and imagery of the two writers, the girls and boys put pen to paper to develop their own poetry creations.
They enjoyed the writing challenge that gave free reign to their imaginations. Stan said: "It was so inspiring to write a poem in the style of an author - I really enjoyed thinking outside the box." Ella agreed and added: "I loved having to think about the extraordinary places that we have never been like the moon."
Head of Year 5 Athanasia Papa-Adams said: "We have been focusing on speaking eloquently, to articulate ideas and thoughts and to collaborate with peers and to express views confidently and appropriately. Children and parents were so creative in their poems and it was lovely to see the collaboration. "
Nationalpoetryday.co.uk online explains: "National Poetry Day is the annual mass celebration on the first Thursday of October that encourages everyone to make, experience and share poetry with family and friends.
"Each year we come together because voices, words and stories help to bridge understanding in our community.
"National Poetry Day generates an explosion of activity nationwide, thousands of amazing events across the UK – on doorsteps and at kitchen tables, in gardens and streets, in schools, libraries and public spaces both online and offline – all celebrating poetry's power to bring people together."
Upton Juniors is part of the Viking Academy Trust with partner schools Chilton Primary and Ramsgate Arts Primary.
*For more information contact Head of School Darci Arthur on 01843 861393.