Rocket Launchers and Lava Lamps Created at Upton Junior School's Day of Science Fun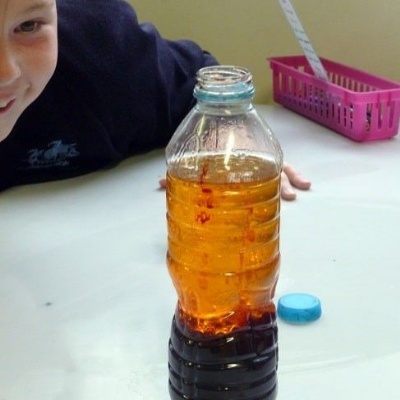 Hands-on experiments exploring different types of changing states mesmerised youngsters at Upton Juniors in Broadstairs.
The Year 5 pupils took part in a varied range of projects to illustrate their topic work in one concentrated WOW Day of fun learning.
They created lava lamps by mixing water, food colouring, oil and an Alka-Seltzer with carbon dioxide gas released inside the plastic bottle to create the lamp effect as the coloured bubbles move through the oil layer to reach the top before popping and floating down again.
Pupils also explored reversible and irreversible changes by exploring how chocolate melts and solidifies, as well as heating milk and an acid that eventually forms a polymer, or plastic.
They were quite shocked when they took a bottle of thick cream and shook it for more than 20 minutes to see it change to butter – which they spread on bread to try. They also learned about the large-scale production of butter.
Creating rocket launchers was one of the favourite topics enjoyed by the year group. They fixed a canister to the bottom of their rocket body, added water and Alka-Seltzer tablets, and watched as the carbon dioxide gas eventually built enough pressure to set the rocket top off into the air.
The Year 5 team also made bread in their Design Technology lessons to further discuss reversible and irreversible changes.
Athanasia Papa-Adams, Head of Year 5 and 6, said: "The children embraced every learning opportunity throughout this topic and our WOW day just tied all of their learning together.
"Year 5 thoroughly enjoyed each experiment and used scientific vocabulary to explain what was happening. Within this topic they also investigated the work of Ruth Benerito who was an American chemist and inventor known for her work related to the textile industry."
Head of School Darci Arthur said: "Upton's WOW day sessions are a great way of focussing on learning and skill development over a morning and afternoon with all sorts of initiatives coming together in a fun educational event."