A Force for Learning at Upton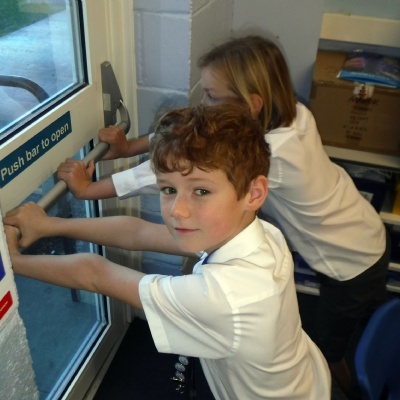 The force is with children at Upton Junior School as they explore their latest learning adventure.
The Year 3 group have taken part in a range of hands-on activities that investigate contact and non-contact forces.
These included exploring how magnets work and completing activities and games with magnets – for example, creating paper plate mazes and tracks with a paper clip character then using a magnet underneath to get the character around the maze.
They also discovered how to make ring magnets 'float', using pipe cleaners to make magnetic hair on a magnet wand, fishing with magnets, and creating artwork inspired by American abstract expressionist artist Jackson Pollock using contact forces such as pushing the paintbrush by flicking.
Lauren Watmough, Head of Year 3, said: "These were fabulous hands-on learning opportunities for the children to learn and investigate how different forces work.
"They had a brilliant experience and were especially shocked by how magnets work. Their amazed faces were a sight to see when they realised a paper clip could be moved without even touching it."
The work was the pupils' 'Stunning Start' immersion into the topic May the Force be With You that will be developed during the coming weeks.
Head of School Darci Arthur believes high impact entry days for topics are valuable learning tools. She said: "They engage our children who then cannot wait to delve deeper into the subject and find out more. The response to the start of this topic has made a big impact and the year group are so eager to make more discoveries."
Upton Junior School, Broadstairs, is part of the Viking Academy Trust with Ramsgate Arts Primary and Chilton Primary schools.
For more information contact Head of School Darci Arthur on 01843 861393