Upton pupils study life during World War II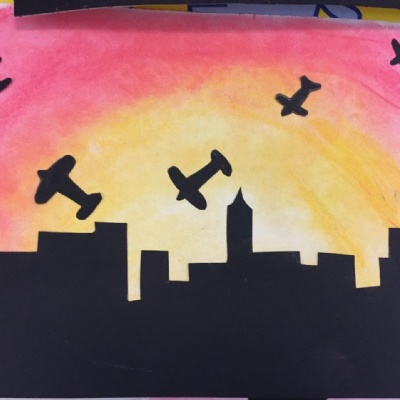 Wartime dogfights in the skies above London have been captured in stark images by young artists at Upton Junior School in Broadstairs.
As part of their We'll Meet Again work about how World War II affected the lives of children, adults and families in Britain, the Year 6 children produced dramatic scenes to illustrate the Blitz air raids over the city skyscape in silhouette.
The creative work formed part of a showcase for parents who were invited in to school to find out about the topic work so far – and then worked together with their sons and daughters to create the silhouettes as part of the visit.
Head of Year 5 and 6 Athanasia Papa-Adams said: "Each class put together a presentation of their knowledge on an aspect of World War II that they had learnt so far. They also showcased their books and the fabulous work they had produced.
"The work they created was of a high standard and really highlighted the London skylines during this time.
"Every child had a well-rehearsed presentation that focused on their oracy skills and it was wonderful to see our children confident and excited to share the knowledge of what they had learnt so far. "
The pupils have already learnt how to jive, jitterbug and swing as they studied and energetically performed dances that were popular during the war. The choreography was led by Miss Prescott and it gave the dancers a chance to get into the rhythm of steps that brought positivity and happiness on the dance floor during the dark days of the conflict.
The topic will continue into next term as well, when children will investigate how the war affected their local area in Thanet. They will visit the Ramsgate Tunnels under the seaside cliffs that became a safe haven for thousands of families and they will embark on a fact-finding trail across Broadstairs to see what areas were bombed during the war using ordinance survey maps.
Their learning has also focused on events leading up to the war, key moments during the conflict, allies and the axis of power, rationing, children's lives on the home front, and building Anderson shelters.
Please enter some content for your news story here.