Upton Junior pupils success at British Schools Modern Biathlon Championships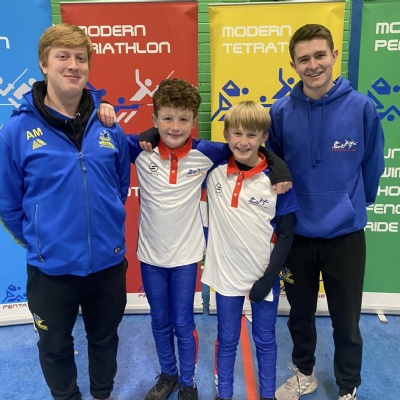 Upton Junior School athletes flew the flag in style at the British Schools Modern Biathlon Championships.
Facing top competition from around the UK, Year 4 boys came second in the team competition while individual performances also highlighted Upton's high standard of performance.
These included Year 4 boys finishing in 13th, 18th, 28th and 29th spots; two Year 5 boys coming 28th and 50th; and a Year 3 girl finishing 53rd.
To cap the impressive overall performance, Sports Lead Callum Noble finished third in the competition between teachers.

Mr Noble said: "Our children turned in some very impressive performances against the best young athletes in the country.
"This is one of our best showings of our swimmers and runners making it to nationals – forty per cent of Upton competitors who took part in the qualifying stage made it through to the big finale.
"Throughout the competition they all showed great resilience, sportsmanship and a hunger to do the very best they could. They should be incredibly proud of their achievements."
The event was held in Redditch near Birmingham (March 11 and 12), and it comprised a 400m run and 25m swim for Year 3-4 competitors and a 800m run and 50m swim for Year 5-6 and teachers.

Upton's well-structured training sessions in the run up to the competition paid off – the school ran a special swim club in the two terms leading up to the New Year and a running club in the last few months to support competitors' development ahead of the tough challenge.

Head of School Darci Arthur said: "The whole school community is rightly celebrating how well Team Upton performed in the biathlon. It was a huge challenge and our athletes performed with such enthusiasm and determination. They continued our school's tradition of excellence at local, regional and national levels.
"They were perfect sporting ambassadors and are an inspiration for all our pupils to do their best, whatever the challenge."