Trust Games are a Sporting Success Story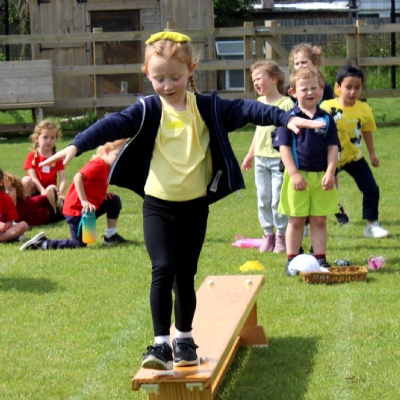 More than a thousand children in Thanet have enjoyed the challenge of their own mini Olympics.
The annual Viking Games saw around 1200 pupils from Upton Juniors, Chilton Primary and Ramsgate Arts Primary – all members of the Viking Academy Trust – joined together in four colour 'house' teams especially for the tournament.
Each 'house' represented a Kent sporting hero – red represented Olympic double gold medallist athlete Dame Kelly Holmes; blue was for the county's women's cricketer Tamsin Beaumont; yellow was for James Barnes-Miller, British snowboarding Paralympian; and green was for Adam Gemili, who has won gold and silver European, World and Commonwealth championship medals.
Event days were held at each school with teams competing in a range of age-specific games that were appropriate to their year groups. Pupils accumulated points for their teams and the VAT Games 2023 overall winner was declared as the red Kelly Holmes 'house'.
Special guest at the opening event was Paralympian snowboarder James Barnes-Miller, who had supported the initial games when it was launched in 2018.
The athlete, who was educated in Broadstairs, enjoyed the variety of activities and was impressed with the enthusiasm and competitiveness of all the teams. He said: "The Viking Games is a great idea and I am pleased to see it flourishing. Keeping active and building and maintaining fitness is really important from a young age."
Throughout the week competition was fierce but friendly as the school groups tried their hands at a myriad of activities and sports from obstacle courses, go karting, basketball, tennis, a hybrid of football/golf, boules, running races, archery, dodge ball, and even indoor balloon volleyball, together with a raft of games for younger pupils.
Each of the activity stations were overseen by sports leader pupils from the area's senior schools – Charles Dickens and Dane Court plus sports leaders from the primary schools too.
PE leaders Emma Knight (Chilton), Callum Noble (Upton) and Alice McCormack (RAPS) praised the performances of children at the various challenges and thanked their colleagues and the pupil sports leaders for the smooth running of the event. They added: "This was a large event to organise and run with so many competitors across three sites – thanks to the dedication of our staff it ran well and was a terrific experience for all our children.

"A highlight was being able to welcome James Barnes-Miller who spurred the children on and gave them a talk at the start of the week. They were really excited to welcome someone of his reputation in the sport - to learn he was born in the area was super exciting for them."
Michaela Lewis, Executive Head Teacher of the Trust, said: "Congratulations go to the victorious 'house' – but most importantly, all our children are winners.
"Our games are inclusive and represent our 'sport for all' initiative that underpins PE and games at each school.
"The most positive aspects were the teamwork and communication skills that all our groups showed in each of the activities, supporting each other and competing in a fair way as they battled it out. Their effort, determination and enthusiasm in their mixed school teams was evident throughout and it was clear to see they were having a lot of fun as well as enjoying the competitive side of the games.
"The Viking Games, which was sponsored by Precision Lift Services, is one of the biggest primary events in the area and it highlights the strong partnership and sense of community between our schools.
"Congratulations also go to our brilliant organisers for their hard work in once again ensuring a memorable sporting event that continues to go from strength to strength."
*James Barnes-Miller competes in snowboarding events for athletes with upper limb disabilities after being born with an incomplete right arm. He became the first snowboarder to represent Great Britain at the Paralympic Games in South Korea in 2018. He also won the bronze medal in the men's dual banked slalom event at the 2021 World Para Snow Sports Championships in Lillehammer, Norway. Barnes-Miller and Ollie Hill also won the bronze medal in the men's team event. James is also a three times winner of the snowboarder Crystal Globe.
For more information contact Mrs Lewis on 01843 582847.