Upton Cricketers Fly The Flag for Thanet In Style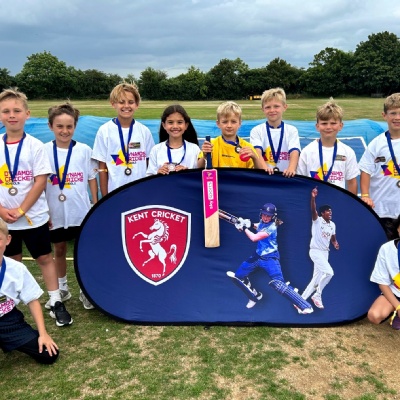 Thanet's school sporting reputation was proudly upheld when Upton Juniors represented the district in the Kent primary cricket finals.
Team Upton's Year3/4 mixed team qualified to fly the flag for the area in the tournament at the Upchurch Cricket Club in Sittingbourne.
They faced stiff opposition from nine other top cricketing sides from around the county and performed with passion and commitment to finish an impressive third in Kent.
Callum Noble, Upton's sport coach and PE lead, was delighted with the effort of the side. He said: "The attitude of the team was exceptional at all times. They showed determination to do the very best they could in every single match which helped them perform at a very high standard.
"Their batting and bowling skills were great. On the batting front the team scored several sixes and a dozen fours across the day helping them to score just under 200 runs in just four games.
"The great performances didn't stop with the bat - the bowling was also amazing with a few maiden overs and a flurry of wickets that helped keep other schools from scoring high.
"Cricket at Upton is developing fantastically well in both PE and clubs, and it's wonderful to see the school thriving because of this at competitions both locally and at county level.
"The enthusiasm, love and passion of pupils for the sport is truly amazing, and the future of cricket at Upton looks brighter than ever."
Head of School Darci Arthur praised the team. She said: "The whole school is very proud of their achievements in the qualifying stages and in the county finals.
"The team represented our area with real pride and were thrilled for how well they did, not only for themselves and Upton but for Thanet as a district. "
Upton Junior School is part of the Viking Academy Trust with Ramsgate Arts Primary and Chilton Primary School, Ramsgate.
For more information contact Head of School Darci Arthur on 01843 861393.