Upton Junior girls to represent Thanet in Kent football finals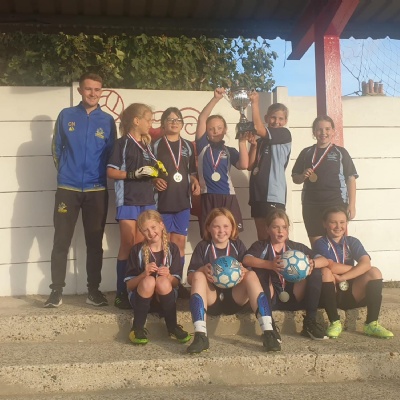 Team Upton is flying the flag for girls' football as the 'pride of Thanet'.
The school team will represent the district in the Kent finals next year after an impressive set of victories in the qualifying competition, the DW Cup.
After scoring a huge 13 goals and conceding none in the qualifying rounds, the Year 5/6 girls made it through to the finals at Ramsgate FC's main pitch at Southwood.
The tournament started impressively – against Palm Bay the girls won 2-0 meaning if they secured victory against St Peter's they would take the title as Thanet champions.
After a tough contest Upton triumphed with another clean sheet and a 2-0 scoreline. They will now go on to represent all Thanet schools in the Kent finals where they will be playing against the best girls' school football teams in the county.

Upton sports coach and PE lead Callum Noble said: "Throughout the whole competition the girls were phenomenal throughout the team. It was an extremely impressive display of commitments, enthusiasm and skill."
Meanwhile Upton's Year 6 boys' team have performed well in their recent competitions.

In the John Curran Cup, the team won all of its group stage games against St Saviour's, Ramsgate, Holy Trinity and St George's meaning they made it through to the finals where they faced Palm Bay, Garlinge and Cliftonville on Margate FC's Hartsdown Park main pitch.
After a hard fought game against Palm Bay it finished 0-0; against Cliftonville the team played superbly managing to win 1-0. They lost to Garlinge 1-0 after a tough close game.
This meant Upton ended the competition in runners up spot in the district.

In the St Lawrence Cup boys played well in the group stages against strong opponents, drawing with St Saviour's and beating St Lawrence by a single goal to top their group.
In the semi finals St Peter's edged a close contest to win 1-0, and Upton then faced another St Lawrence team and fought against tired legs and a good opposition to seal third place with a 1-0 win.
Mr Noble added: "All the performances by our teams were worthy of praise and the boys lost out on very narrow margins in both competitions."
Head of School Darci Arthur said: "Congratulations to our brilliant sports teams who represented our school with pride and distinction.
"Women's football is rightly gaining well-earned recognition and popularity and it is pleasing that our girls' teams at Upton have been progressing very well over the years.
"The standard of girls' football is improving all the time and our team is proud to represent the other teams from our district who all played so well throughout the DW Cup and who have all done so well.
"Team Upton has worked hard to deservedly represent the girls' game in the district as 'the pride of Thanet'. We will all be cheering them on in the Kent finals."