Upton's colourful support for Young Minds charity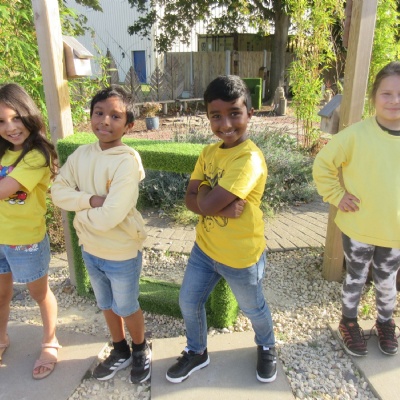 Hello Yellow at Upton
Coping strategies to help you feel better even when you are feeling low is an important part of learning for life for children at Upton Juniors in Broadstairs.
An integral part of this initiative is celebrating that everyone has differing ideas on what they could do to support their wellbeing.
Wide ranging suggestions include reading, drawing, walking, spending time with animals and enjoying being with loved ones, all of which reflects on the diversity of the Upton pupils.
The school's ongoing wellbeing initiative came into focus on annual World Mental Health Awareness Day on October 10.
Teacher Izzy Reed, Personal Development Lead at Upton, led a whole-school assembly which highlighted the yearly campaign's theme for 2023 – stand out and show up.

It is integral to the Hello Yellow part of the day where children and staff are invited to wear yellow outfits to show support for the Young Minds children's mental health charity.
Miss Reed said: "Upton shone extra brightly as our children graced their classrooms, corridors and outdoor spaces in their various tones of yellow.
"Families donated an amount of their choice for their children to wear bright yellow to raise money for Young Minds, which supports families and individuals with their mental health and wellbeing.

"The wellbeing of our pupils shapes the curriculum and school life at Upton. Key drivers of this include working with children to identify their emotions using the Zones of Regulation daily.
"The first week of every term is for personal development which centres on supporting children's feelings, thoughts and emotions, and also concerns teachers being adaptive to the needs of their class throughout the school day. "
Upton's Hello Yellow contributions raised £430 for the Young Minds charity. Head of School Darci Arthur said: "This a great sum for a really worthwhile and effective charity that does much-needed work.
"At Upton we pride ourselves that mental health wellbeing is a cornerstone of our learning for all age groups. There are important strategies in place to cover many different aspects and this is continually monitored and improved.
"Happiness within our school community is paramount and we are proud that our pupils feel safe, cared for, listened to when they raise concerns, and supported on every step of their educational journey."

"We have a strong and structured support network for our children enabling our children to openly discuss their feelings and anxieties. They know that help and understanding is available whenever they need it in school."
The Young Minds charity says: "We want to see a world where no young person feels alone with their mental health, and all young people get the mental health support they need, when they need it, no matter what."