Inspiring verse from Upton's creative young poets exploring theme of refuge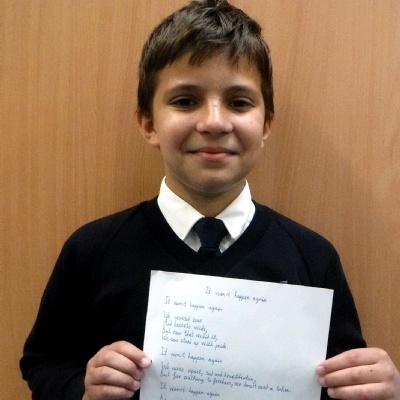 Upton poetry event
Children from the Ukraine who are learning at Upton Juniors in Broadstairs have written poignant verses on the theme of 'refuge'.
Head of School Darci Arthur said: "We have several pupils from the Ukraine at Upton and they are an integral part of our school community. They were welcomed with open arms and have settled in very well during the last year.
"Their contributions to our annual support of the recent National Poetry Day produced emotional, perceptive and poignant work that was meaningful and thought-provoking.
"For them the theme 'refuge' is more than a creative spur, it is something that is very real, something they have felt in their young lives and are living through successfully.

Kostya from Year 5 (pictured) wrote a heartfelt poem called It Won't Happen Again.
In part of it he writes: "We crossed seas, and deserts wide, but now that we did it, we can stand up with pride – It won't happen again. We were upset, sad and heartbroken, but for walking to freedom, we don't need a token, it won't happen again."
Miss Arthur added: "The whole poetry day was very creative with fantastic contributions that demonstrated a range of skills in all our age groups."

Across year groups, children and teachers discussed what the term refuge means and how you can find it in people, animals, places and nature. They also linked it to feeling safe and sheltered which then led onto conversations about refugees.

Each year group explored a different poet to consider. Year 3 focused on the poem Nature Trail by Benjamin Zephaniah that linked to refuge in safe spaces, while Year 4 studied We Are Friends by Zaro Weil that centred on refuge in nature and also refuge in people.

The work of former Children's Laureate Michael Rosen inspired Year 5 who looked at On The Move Again which is about finding refuge in another place. At The End Of The Day by Matt Goodfellow, a poem about finding refuge in writing, gave Year 6 writers food for thought.
The theme 'read a poem, write a poem, share a poem' formed the basis of Upton's experience with elements of sharing the poems, discussion and performance.

Across the year groups, the children also wrote their own poems based on those they had studied and created artwork to show how they visualised the poetry.
Gemma Scarr, Assistant Head of School and English Lead, said: "It was a fantastic experience with children immersing themselves in poetry as a form of artistic and self-expression.

"They were extremely positive and so proud of themselves for the work they produced and shared. It also links to our key focus of oracy with children performing their poems thinking about tone of voice, presentation and expression.

"It was truly a brilliant experience for us all."
*Oracy is the ability to articulate ideas, develop understanding and engage with others through spoken language