ZEN DOODLE WEEK


This week for our Home Learning (and in school) we are going to look at Zen-Doodles.
Throughout the week there will new patterns to learn and try, resources templates to download and ideas to look at...

I would like to ask everybody to have a go at this (if they want to!) ... Upton Children, brothers, sisters, Mums, Dads, Grannies, Grandads, Uncles, Aunts..... etc everyone is welcome to ZEN-DOODLE and send me their pictures. More pictures the better!!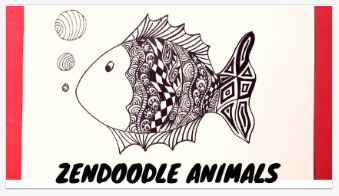 What Are Zendoodles and Zentangles?
Zendoodling is the art of drawing designs using structured patterns or 'Zentangles'.
When you draw a Zendoodle, you're creating a work of art, but you're also deliberately creating a mood, focus, and state of mind.
Concentrate on drawing small blocks of patterns at a time; going with the flow lets your mind get into a calming zen state. This allows you to follow through on impulsive thoughts, so your doodle won't be restricted by expectations, giving you an unexpected final design and a glimpse into your subconscious!

https://feltmagnet.com/drawing/How-to-Create-a-Great-Zendoodle